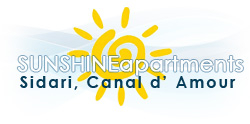 Sunshine Apartments
Our latest AWARDS!
Find out more...

Sidari's Weather Forecast

Apartments in Sidari Corfu
Sunshine Apartments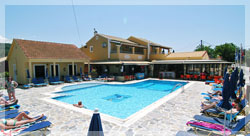 Sunshine Apartments Sidari Corfu
Canal D'amour, Sidari 49081
Corfu, Greece
Phone: (+30) 26630 95122 Fax: (+30) 26630 95420
Mob: (+30) 6972 723084
Email:

Apartments in Sidari, Corfu
Welcome to Sunshine Apartments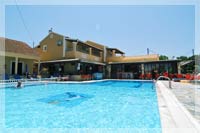 Sunshine apartments is run by Fragi family. Surrounded by open countryside set with woodland. Modern property, picturesque grounds are ideal for families and couples seeking a relaxing holiday in Corfu. Comfortable accommodation whilst the large gardens provide an excellent safe place for children to play.
The apartments are on the North part of the island of Corfu, 35 km from Corfu town (Kerkyra) airport and the port, 900m from the center of Sidari, 300m from the famous beach Canal d'Amour and 1100m from the Sunset beach in Peroulades Village.
Discover Corfu and Sidari
Find out
more
about the magnificent beauties of the northeast of Corfu Island!