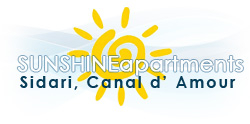 Sunshine Apartments
Our latest AWARDS!
Find out more...

Sidari's Weather Forecast

Apartments in Sidari Corfu
Corfu Island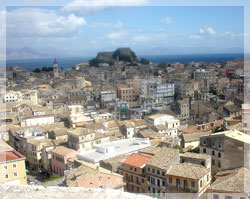 Homer's "beautiful and rich land" is the best known of the Ionian Islands, a beguiling place of wildflowers and cypress groves, Venetian architecture and herb-scented mountains. Enough beauty remains for Corfu (Kerkyra) to be considered one of the most beautiful of the Greek islands.
It is the second largest of the Greek Ionian Islands (after Kefallonia) located off the west coast of mainland Greece and Albania. It's one of the greenest of all the Greek islands and was among the first to attract package holiday makers in the 1960s.
Corfu is green and fertile, with picturesque mountain scenery surrounded by gorgeous yellow sand beaches. A pleasant climate (avg. max. temp. 89° F in July and August), extraordinary landscapes and towns and villages steeped in history make Corfu Greece's most popular holiday resort.
Her natural beauty is hidden beneath a cloak of emerald green trees, as dramatic mountain peaks plunge into the deep blue Ionian Sea. Elegant architecture, spanning over centuries of Venetian and British rule, make the main town and outer-lying villages a treasure chest waiting to be discovered.
CorfuFind out more
Corfu Town
The island's capital is the promontory city of Corfu Town, flanked by fortresses old and new. At the city's heart is the gorgeously gardened Spianada and its elegant row of cafe-filled arcades, the Liston, built by the French and modelled on Paris' rue de Rivoli.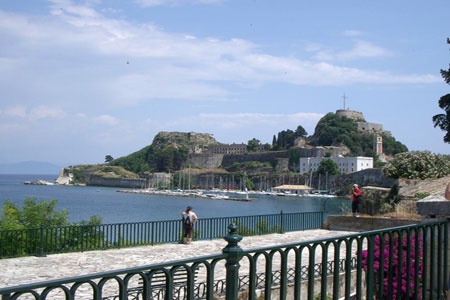 Corfu Town's Archaeological Museum is famous for its Gorgon Medusa sculpture, one of the best-preserved pieces of Archaic sculpture in the whole of Greece, and the town also has notable museums devoted to Asiatic art, Byzantine icons - and paper money. But the best thing to do in Corfu Town is to simply wander the narrow alleyways of the Venetian old town, past Georgian mansions, Byzantine churches and shuttered buildings stuccoed in muted shades of ochre and pink. Leave some time for exploring the two fortresses, gasping at the stunning views and sampling the nightlife at the Liston's people-packed cafes - by day they make excellent members stands for watching the cricket played on the nearby Spianada, a decidedly unique experience in these Greco-Italianate surrounds.
The island is without doubt one of the top holiday spots in the whole of Greece and it's easy to see why. It offers brash, noisy seaside resorts where you can party all night (and all day too if you're strong enough). There are leisure and entertainment facilities galore but you don't have to travel far to find unspoiled countryside, traditional villages, wonderful mountain walks and secluded coves. The capital is one of the most beautiful of all the Greek island towns and if you fancy playing Robinson Crusoe for a day or two you can take a boat trip over to one of the Diapondia Islands off the north west coast of Corfu.
Corfu Island
More than one million visitors descend on Corfu every year, the vast majority of them package tourists heading for the beach resorts. Corfu offers something for everyone be it crowded beaches and rowdy bars to idyllic small beaches and tavernas. The village of Nisaki, with its tiny pebble beach, and Agni, whose excellent tavernas are regarded by those in the know as the gourmet heart of Corfu, are not to be missed. The nearby pretty little Venetian harbour of Kouloura and the harbour-resort village of Kassiopi, are still bearing visible traces of its Hellenistic, Roman, Byzantine and Venetian past.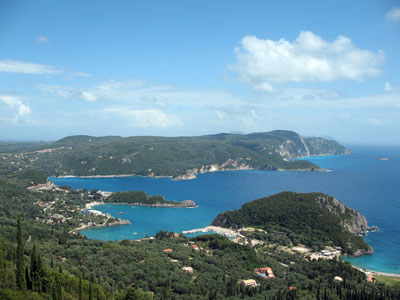 Mt Pantokrator is inland, at 906m (2970ft) the island's highest peak and a popular destination for walkers. This mountain region is dotted with abandoned villages like Old Perithia, poignantly attractive in their state of decay. The beach at Almyros is a superb stretch of golden sand lapped by family-friendly shallow waters. For a glimpse of the formerly idyllic appearance of resort towns like Roda and Sidhari, visit the tiny, unspoilt fishing village of Astrakeri.
The hook of land dangling 5km (3mi) south of Corfu Town is the Kanoni Peninsula, the site of the ancient capital. Ancient ruins are liberally sprinkled throughout this region, including the circular Tomb of Menecrates and Temple of Artemis (the original sites of the lion and gorgon now housed in Corfu Town's museum). The much-photographed offshore islets include the dazzling white monastery of Moni Vlahernas and Mouse Island, topped by a 13th-century church.
One of the most popular attractions of Corfu is the Achillion Palace which looks completely out of place when compared to other buildings of the same age, while at the same time its sheer extravagance (as it was originally built for a holiday home) and beautiful gardens with views of the sea make this an essential visit while in Corfu.
Corfu Beaches
Corfu's best beaches are on the north and west coast. Sidari and Peroulades, where Sunshine Apartments are located, are amongst the most stunning as well as famous. A little further west, the 3km (2 miles) golden-sand stretch of Agios Georgios is a haven for watersports enthusiasts, and nearby Afionas has Neolithic ruins and sweeping coastal views.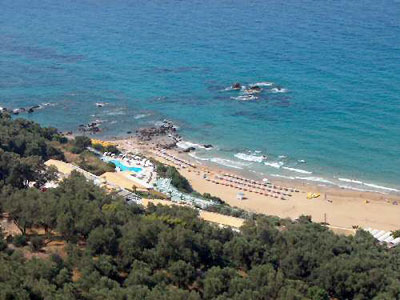 The west coast's largest resort is the beautiful Paleokastritsa (26km/16mi west of Corfu Town), with sandy and pebbled coves, a verdant mountain backdrop and unparalleled snorkeling in grottoes and caves.
A couple of villages south of Paleokastritsa have nabbed the independent travel set, including hill-top Pelekas, with its spectacular sunsets, picturesque houses and alleys and range of accommodation from pensions to a country club.
Myrtiotissa is the island's unofficial nudist beach - complete with body painting and fresh-water pipe for freelance campers. Agios Gordios is heading the way of all resorts, but its beach and hostel continue to attract more backpackers than package tourists.
Sunshine Apartments Corfu Photos